Friends, I'm so happy to see Friday. I have been in one of those funks this week in which I cannot even stand myself... And as such, I'm sure the folks I've been around haven't exactly been enjoying my company either. If you fit into that category, I promise to do better! (And yes, that applies to husbands - ha!)
I usually have a pretty good list of things from the week to share with you on Fridays, but today my thoughts are scattered and my brain is jumbled. So, keeping with that theme, I'm simply going to share some of the random crazy going through my head and let you be on your way.
/ 1 /
I'm slightly annoyed that my teeth still hurt from LAST FRIDAY'S dentist appointment. I think my teeth and my mouth are just sore from being open and poked and prodded and drilled and numbed, etc... but still, a week seems like long enough. Crowns are no fun, but are made possible in part with Novocaine.
/ 2 /
Night terrors are scary. Little L had his first this week. It's unnerving because, as a parent, you cannot wake them up or even console them. You literally just have to wait it out, and make sure that they do not hurt themselves. I'm hoping it's a one and done situation, but in the off chance there are more to come, any advice from other mamas? If you've got some, I'd love some.
/ 3 /
I've been without a car for less than 24 hours, and I already feel trapped - stripped of my freedom. Okay, it's not that extreme, but I can't just hop in the car and go grab lunch or leave when I'm ready to. I'm dependent upon someone else. I'm thankful for those someones, but definitely miss my independence. I'm hoping the noise that's coming from underneath my hood is only minor and an incredibly easy fix.
/ 4 /
We received our Christmas Cards from Mpix on Thursday. They're perfect. I chose the design below and used an individual picture of each of the boys.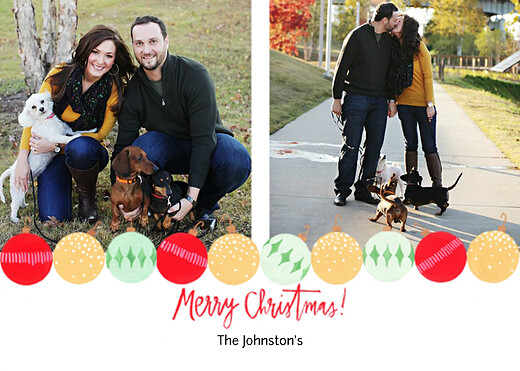 / 5 /
Some days I feel stylish, others I feel frumpy. Tuesday was a stylish day. If you follow me on Instagram, you've already seen this, but I loved my new sweater from the Gap. Plus, I've had this Columbia rain jacket for almost two years and still receive compliments every time I wear it.
/ 6 /
One thing I've been doing this week to lift my spirits (Joshua encouraged himself in the Lord, right?) is listen to Christmas music throughout the day! I am loving the Christmas Traditional Radio on Pandora. It's the perfect mix of songs pointing to Christ and songs just generally about Christmas.
/ 7 /
In case you missed some of the previous blog happenings this week...
I've never received more compliments on a dress in my entire life than I have on this one.
There's still time to enter the Erin Condren LifePlanner giveaway. It closes end of day on 12/11. This giveaway is not sponsored, just me sharing something I love with my friends.
I shared my favorite small shop with you this week - Junebug and Bean. Take a few moments to see what Jennifer made for me and enter the giveaway she's sponsoring - a $25 Credit to her store. This one ends 12/10.
Finally, I insist that each and everyone of you have a fabulous Friday AND amazing weekends. Ours is slightly packed, but I'm hoping to squeeze in quite a bit of R&R in hopes of restoring a piece of my sanity.