Happy Friday, Lovelies! I hope your week has been just as amazing as mine. I have lots I want to share from this week, so I'll get to it and do my best to keep it short and sweet.
Last Friday afternoon, Little L had his one year check-up. He's not the best patient. They pricked his finger first, and I was surprised at how well he handled it. He didn't even cry. The band aid, however, was a different story. It was driving him crazy. He eventually managed to pull it off, and we both ended up with blood all over us. He fought the doctor looking in his ears, listening to his heart and lungs, etc. I had to practically put him a complete body hug for the nurse to give him his shots. Once we got to the car, he totally crashed and was fine the rest of the evening. Shew!
I had some Gap Cash to spend last weekend, so I did a little online shopping. I always load my cart up and then compare and contrast the items to get to the total I actually want to spend. Once I had finished browsing and checked out my cart, I had way more in there than my limit. Gulp. Since I wasn't spending anywhere near that amount, I had to make some serious decisions. Thankfully, the Gap Cash helped a bunch! Here are a few of my favorites from my shopping spree.
On Monday, I chose to celebrate my first blogging milestone with a post on How to Start a Blog. I am breaking it up into two parts: getting started and the little things. I have some non-blogger friends asking questions and wanted to share what I focused on in my first month. Fellow bloggers, what were some of your main focal points in the first 30 days of your blog's life?
I finished the Serial podcast earlier in the week. I just had to know what had transpired since the last episode aired in December. I learned two things when I started searching for the info: 1) There is a follow-up podcast called Undisclosed that continues to share new information and updates on the status of the case. I have not yet listened to any of these yet. Have you? and 2) I found a news article that was posted at the beginning of this month reporting on the current status. I'm still on edge. Did he or didn't he?
On Wednesday, I shared all the things I'm loving about Fall. From the cooler temps to being able to blow dry my hair without getting too hot. I included some of my Gap Cash buys that I mentioned earlier too. Be sure to check them out.
Oh, and this was also the same evening that Little L decided to take his first steps without any assistance!! We were all there to see it, so it was absolutely amazing. He walked right into Daddy's arms and Big Brother even got to record it on video - he loved being a part of the excitement. God is good.
Both my favorite shows aired this week. Is anyone else a Scorpion fan? I am such a hopeless romantic. I am definitely rooting for Walter and Paige. Even though, if and when they do become a couple, they'll inevitably have to have a falling out in the interest of creating more drama.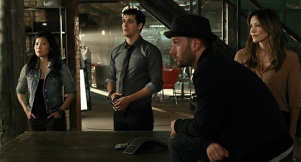 NCIS has been my number one show for years. I love all of the characters, and I'm looking forward to seeing what unfolds this season. As long as no one leaves or dies, I can handle the team drama.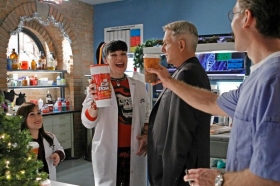 Little J took this picture with Daddy's phone while they were working in the hay. We didn't even realize it was there. It's such a great picture that I just had to share.
That about sums it up for me. How has your week been? I hope it's been fabulous. Have great weekends!